New in collection Russian Ballet - Spartacus (video review)
31 March 2021 12:40:57
Reviews :
Views: 4158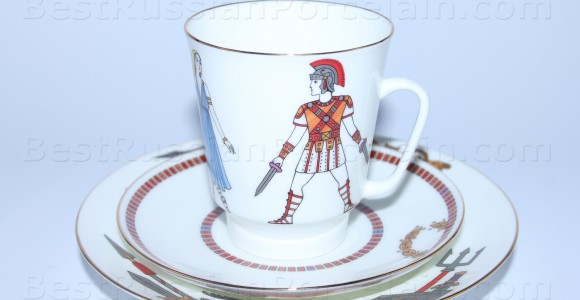 The collection "

Russian Ballet

" was supplemented by sets based on the plots of the ballets "

The Sleeping Beauty

" by Pyotr Tchaikovsky, "

Cipollino

" by Karen Khachaturian and "

Spartacus

" by Aram Khachaturian. The graceful graphics of the letter, inherent in the author's handwriting of the master, subtly conveys the harmony of classical dance, and the airiness of thin-walled bone china organically works to create a holistic perception of the image.



Watch the

video review

on our

YouTube channel

.
Aram Khachaturian began work on the ballet "
Spartacus
" in the tragic year 1941, but it had to be postponed for many years - the premiere took place only in 1956 in Leningrad.
One of the most famous productions was performed by Yuri Grigorovich: in 1968 the performance was presented at the Bolshoi Theater, the star cast included Vladimir Vasiliev, Ekaterina Maksimova, Nina Timofeeva and Maris Liepa. The stage costumes of this legendary production are depicted on porcelain.
The set is made of bone china at the
Imperial Porcelain Factory
. Overglaze decal and gold layering are used for decoration. The author of the drawing is Lyubov Tsvetkova, the author of the form is Eduard Krimmer. The author's model was created in 2021.
The set includes 3 items: a cup (165 ml), a saucer (12.1 cm), a dessert plate (15.5 cm)
The series consists of eleven subjects: "Bolt" by D. Shostakovich, "

Giselle

" by A. Adan, "

Petrushka

" by I. Stravinsky, "

Scheherazade

" by N. Rimsky-Korsakov, "

Swan Lake

" and "

The Nutcracker

" by P. Tchaikovsky, "Romeo and Juliet "S. Prokofiev, "

Don Quixote

". In 2017, the collection was supplemented by two new works - the three-piece sets "Cinderella", the painting of which is dedicated to the ballet of the same name by Sergei Prokofiev based on the tale of Charles Perrault, and "The Little Humpbacked Horse", the decor of which was the ballet "The Little Humpbacked Horse, or Tsar Maiden" Caesar Puni, staged based on the tale of Peter Ershov. In 2021, the collection was supplemented by three ballets: "
Spartacus
", "
Sleeping Beauty
", "
Cipollino
"