Video review: Tea Cup "Cobalt Net" form Tulip
07 April 2021 12:40:57
Reviews :
Views: 5217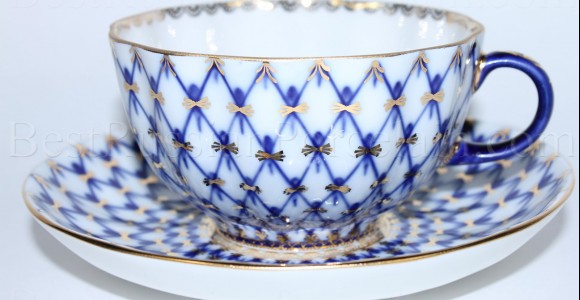 Watch the
video review
on our
YouTube channel
.
The drawing "

Cobalt net

" was created at the end of 1944 by the artist Anna Yatskevich.
There is no reliable data on what exactly served as the prototype of the created drawing for the artist.
Perhaps the painting of the "Own service", created by D. I. Vinogradov in the 1750s, perhaps the motifs of the service of the Viennese porcelain manufactory, stored in the collections of the factory museum.
Some sources indicate that these are associations with the blockaded windows of Leningrad houses glued cross-on-cross.

It took five years of work of technologists and craftsmen of the plant to solve and overcome all the technological problems and subtleties of underglaze painting with cobalt.
In 1950, a student of Anna Yatskevich - O. S. Dolgushina under her leadership performed the final version of the painting of the service, which was introduced into production.
In 1969, the service "
Cobalt net
" was awarded the "Quality Mark of the USSR".
In the 1990s, the honored artist Galina Shulyak, an unsurpassed master of painting with cobalt, transferred the drawing "
Cobalt net
" to dining rooms and other objects. Later, the drawing was applied to objects made of thin-walled bone porcelain.
Currently, the "
Cobalt net
" is produced on more than 100 items of the plant's products and is one of the most popular drawings of the plant and a "business card" not only of the plant itself, but also of St. Petersburg.